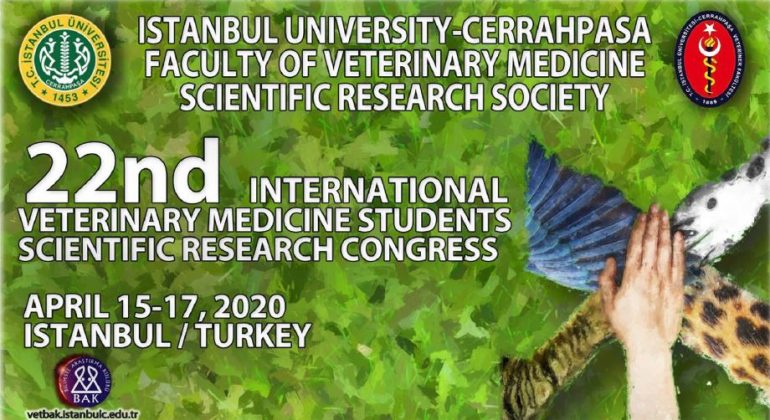 To whom it may concern,
I am writing on behalf of Istanbul Unıversıty-Cerrahpasa, Faculty of Veterinary Medicine, Scientific Research Society to inform you about our "22. International Veterinary Medicine Students Scientific Research Congress" (IVMSSRC 2020).
The congress aims to provide an ideal academic platform for students to present the latest research findings and describe emerging directions in Veterinary Medicine Science.
The congress will be held in Istanbul and congress languages are English and Turkish. In the congress, simultaneous translation service will be provided, and Turkish and/or English will be translated into Turkish and/or English.
There is no limit for the participation of the students.
All of the participants must fill the submission form. See on online from http://vetbak.istanbulc.edu.tr/en/content/registration/registration-form
Congress fee is 100 € for students and 150 € for Academician (Lecturer, Research Asistant, Dr., Assos. Prof., Prof.) including in-city transportation, accommodation (15-16 April 2020 at "DoubleTree by Hilton Istanbul – Avcilar"), buffets, gala dinner and social program. The participation fee has to be paid to the account number below until April 1, 2020.  The receipt will be sent via email (vetbak@istanbul.edu.tr).
When the participant fill the registration form and pay the congress fee, the acceptance letter will be delivered.
All the details are on the website (http://vetbak.istanbulc.edu.tr/en)
Best regards
Prof. Dr. Serkan İkiz
Istanbul University-Cerrahpasa | Veterinary Faculty
E-mail: vetbak@istanbul.edu.tr