Debating and veterinarians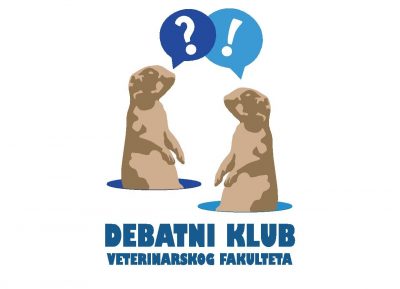 We know the solutions but we don't know how to argue them. A problem of many students of veterinary medicine and a frequent obstacle in everyday affairs. Understanding the nature of veterinary medicine and its need of a reasoned and articulated exchange of opinions led to the search of such an activity which would result in developing rethorical and similar "soft" skills. A small group of students found the solution in forming the debate club called DK Veterina. The first presentation debate with our guests from the Zagreb student debate forum is considered the clubs official start of "activites" as an activity within the Veterinary student association USVM. It helped the club gain enough students to have its own debates and trainings. The debate club spends the year 2018./2019. debating at different local and international tournaments. At the Belgrade tournament Decembarac, clubs team consisting of students Katja Močibob and Dorian Butković qualified in the quarter finals of the tournament. DK Veterina participated at the Zagreb Open tournament (held by Zagreb student debate forum) where participants from many different countries debated about economics, politics and ethics. That was the clubs first official tournament in english. The club crowned its first year of operations by participating at the Mediterranean Debate Academy in Split (held by Split debating union, Athens EUDC and Thailand EUDC). The academy consisted of intense workshops and seminars in the field of international relations, rethorics and politics, together with a tournament in the end of the academy. Here we witnessed the clubs greatest achievement where our team (Dorian Butković, Sonja Ann Chiddenton) made it to the finals of the tournament and two of our members made it to the top ten individual speakers list (Sonja Ann Chiddenton, Nikola Čudina).
In the year 2019./2020. the Debate club Veterina becomes an official section of the Veterinary student association USVM. This marks an optimistic start of the clubs future activities. The mission and vision of the club is to strengthen its position as the first debate club of a faculty which is in the biomedicine field of studies and to ensure broad education of veterinary students through different extracurricular activities.
Head of the section DK Veterina
Nikola Čudina